Employee orientation is an important piece of HR and employee management. A formal orientation is essential to setting a new hire up for success and helping your company maintain the corporate image and values you portrayed during the interview process. Employee orientation can also be designed for current staffers who are being promoted to a new position within the company and need a similar type of program. Learn the must-do's for employee orientation in the video below.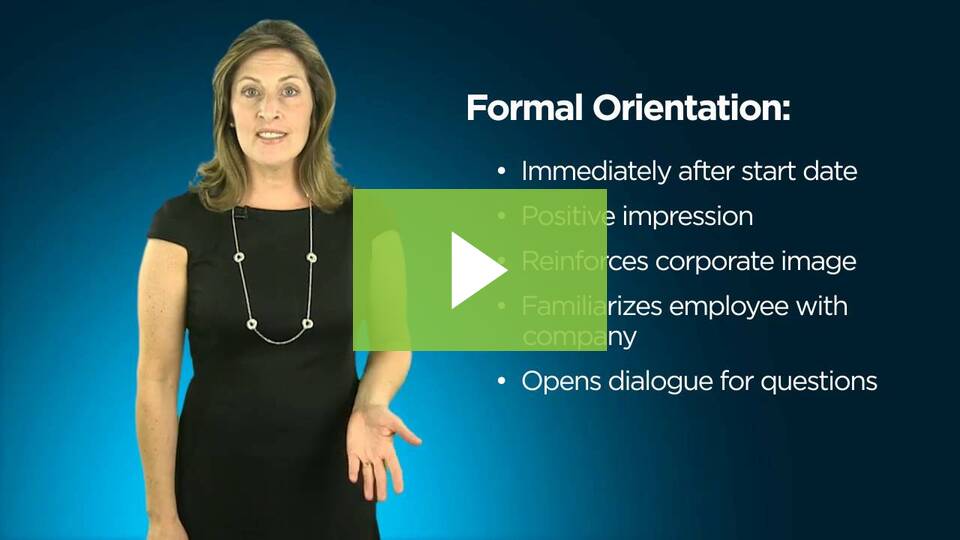 Just in Case you Missed it here are January's HR News Alerts
HHS Increases Civil Penalties for HIPAA Violations

January 21, 2020

HIPAA
Privacy and Security Rule Violations Impacted by Rule
On Jan. 17, 2020, the Department of Health and Human Services (HHS) published a final rule increasing the civil monetary penalties for violations of the HIPAA Privacy and Security Rules. HHS is required to adjust these penalties for inflation each year.
Effective Jan. 17, 2020, the following civil penalty amounts apply to violations of HIPAA's Privacy and Security Rules:
For each violation where the covered entity does not know about the violation (and by exercising reasonable diligence, would not have known about the violation) the penalty amount is between $119 and $59,522.

If the violation is due to reasonable cause, the penalty amount is between $1,191 and $59,522.

For each corrected violation caused by willful neglect, the penalty amount is between $11,904 and $59,522.

For each uncorrected violation caused by willful neglect, the penalty amount is $59,522, with an annual cap of $1,785,651 for all violations of an identical requirement.
Click here for more details.
DOL Increases Penalties for Group Health Plan Violations

January 15, 2020
2020 DOL Penalty Amounts for ERISA Violations Issued
The U.S. Department of Labor (DOL) has increased the penalties employers face under ERISA for group health plan reporting and disclosure failures. These new amounts apply to penalties assessed after Jan. 15, 2020, and include the following:
Summary of Benefits and Coverage (SBC)

: Failure to provide group health plan participants and beneficiaries with an SBC may now result in a penalty of up to $1,176 per participant or beneficiary.

Employer CHIP Notice

: Failure to provide a CHIP Notice to employees in states that offer group health plan premium assistance through a state Children's Health Insurance Program may now result in a penalty of up to $119 per day per employee.

Summary Plan Description (SPD)

: Failure to furnish an SPD to the DOL upon request may now result in a penalty of up to $159 per day (not to exceed $1,594 per request).

Form 5500

: Failure to file an annual report with the DOL (unless a filing exemption applies) may now result in a penalty of up to $2,233 per day.
DOL Adopts New Joint Employer Determination Test

January 14, 2020
On Jan. 12, 2020, the U.S. Department of Labor (DOL) announced a new four-factor balancing test to determine whether two or more organizations should be considered "joint employers" under the Fair Labor Standards Act (FLSA). The final rule establishing the new test becomes effective March 16, 2020.
The final rule requires the DOL to examine whether a potential joint employer:
Hires or fires the employee;

Supervises and controls the employee's work schedule or conditions of employment to a substantial degree;

Determines the employee's rate and method of payment; and

Maintains the employee's employment records.
However, the rule also clarifies that additional factors may be considered as necessary. Please note that this final rule and new test apply only to joint employment status for FLSA compliance and do not address joint employment status under other federal employment laws.
The DOL has the authority to enforce full compliance with labor standards against one or all joint employers. To avoid violations, employers should:
Become familiar with this final rule;

Evaluate whether they are in a joint employment situation; and

Identify any potential areas of non-compliance by joint employers.
DOL Publishes Guidance on Lump Sum Bonuses and Per-Project Payments
Opinion Letters Provide an Insight on How the DOL applies the Law to Specific Facts
On Jan. 7, 2020 the U.S. Department of Labor (DOL) issued two opinion letters that clarify how the Fair Labor Standards Act (FLSA) applies in specific situations. Opinion letters provide the DOL's official opinion on how the law applies in specific situations. Employers that rely on opinion letters may be able to establish a "good faith defense" under the law. As a result, employers should become familiar with these letters and review their practices to ensure compliance with FLSA requirements.
FLSA 2020-1: Lump Sum Nondiscretionary Bonuses Must Be Included in Regular Rate
In its first letter, the DOL asserts once again that employers must include nondiscretionary bonuses in their employee's regular wage rate calculations. In addition, the opinion letter outlines how employers may go about allocating lump sum nondiscretionary bonuses that cover more than one workweek. This guidance is important to employers calculating overtime pay for employees who received such bonuses.
FLSA 2020-2: Per-Project Pay Can Satisfy the Salary Basis Test
In its second letter, the DOL asserts that per-project payments can satisfy the fee basis test if the payments do not vary from pay period to pay period, vary based on the number of hours worked, or vary based on the quality of the work performed. The DOL also explains that occasionally, employers may increase or reduce an exempt employee's project compensation if the changes in pay are tied to changes in the scope of the project.
However, an employee's exempt status may be undermined if contract or project revisions are too frequent.